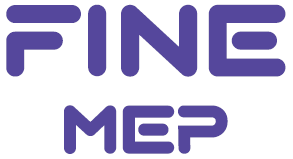 FineMEP is a Complete Package of Building Services Design Software including the following Programs



> New FineMEP 19 Top Features (video)

New FineMEP 19 Major Upgrade with additional advanced features

BIM Innovative Design: New BIM design with a total code restructure based on the ODA-Teigha libraries and a 64bit Architecture to ensure unrivaled performances on the display engine and the open/save & read/write functions.

New Interface: New BIM interface including Ribbon menus, enhanced toolbars, sophisticated property panel, enhanced dialogs for the BIM entities and widespread use of grips.

Advanced Modelling Features

New BIM objects (i.e. walls of any shape, corner openings, continuous surfaces on the wall joints with composite building elements etc)

Quick editing of the BIM objects, due to the extended property panel in conjunction with the filter selection and the use of grips.

Intelligent building level/floor management (images as Xrefs, smart level editor and others).

Clash detection while designing the HVAC/Plumbing/Electrical networks

Visual 3D model for the heating/cooling surfaces of the building shell

Flexibility to define/edit different heights in a space.

Option for real time editing of the network diameters/sizes (i.e. desired dimensions) through the Property Panel.

Ability to define the air-flow rates of a ventilation system directly on the drawing.

Smart algorithms in the Air Ducts module to generate the detailed 3D realistic model according to the Ashrae detailed guidelines.

Real time 3D sizing of the heating/cooling units following the requirements and the manufacturers' data.

Parametric design of underfloor heating systems, considering snail, serpentine and meander patterns.

Integration of the 3D building services installation drawings within the 3D architectural model

High quality fast rendering to create realistic views of both, the building shell and the MEP installations (piping network, air-duct network etc).

Full BIM Compatibility and Interoperability: Maximum interoperability with every BIM application (i.e. Revit, Archicad etc) and seamless integration among the FINE-MEP verticals, as well as with IDEA and FineGREEN.

New Powerful CAD Engine: Embeds all the new features of the latest 4MCAD v.19, more powerful than ever, engine.